What is Earnings Season & What to Look for in Earnings Reports?
Earnings season provides a great opportunity for equity traders to gain insight on stocks they have invested in, while also offering context to potential share price moves. Read on for more on what earnings season is, earning announcement dates to know, and what to look for in an earnings report.
What is Earnings Season & Why Is It Important?
Earnings season is a period each fiscal quarter, usually lasting several weeks, where many of the largest listed companies announce their latest financial accounts. An earnings report consists of revenue, net income, earnings per share (EPS) and forward outlook, amongst a bevy of other data points, which can help to provide investors with insight relating to the current health and outlook for the company. This information can be found on sec.gov, various financial publications, and individual companies' websites.
Earnings season is important because it helps market participants glean information from the companies that they are monitoring along with the broader index. For example, a strong Apple (AAPL) earnings report may see investors bullish on Nasdaq 100 futures, a concept discussed further below when looking at bellwether stocks.
Something else that can accompany an earnings release is an earnings call. This is a conference between the company and analysts, press and investors which discusses the outcome of an earnings report and, in many cases, opens the floor for questions to company management. Such scrutiny of the reports can enable traders to access more information to further inform their decisions, although not all companies hold earnings calls.
When is Earnings Season & When Do Reports Come Out?
Earnings season takes place typically a few weeks after each quarter ends (December, March, June, September). In other words, earnings seasons begins around January-February (Q4 results), April-May (Q1 results), July-August (Q2 results) and October-November (Q3 results), with the unofficial start of earnings season usually marked by when the major US banks report results.
This typically coincides with an increase in the number of earnings being released, while the unofficial end of earnings season is usually around the time that Walmart (WMT) announces its earnings report.
Starts in:
Live now:
Oct 17
( 02:10 GMT )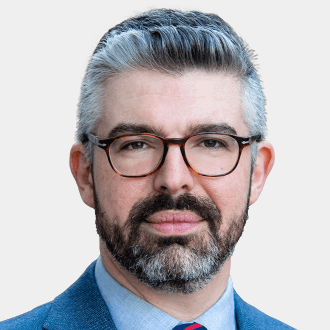 Boost your equities prowess with our stocks webinar
Cross-Market Weekly Outlook
3 Things to Look for in Company Earnings Reports
There are a number of factors to look for in company earnings reports. Traders should be most mindful of the performance of the largest 'bellwether' stocks, understand the significance of an earnings recession in a given stock, and grasp how a stock's earnings announcement might impact a relevant index, depending on the weighting of the given security.
1) Performance of bellwether stocks
When analyzing company earnings, it is important to look out for 'bellwether' stocks which can be seen as a gauge for the performance of the macro-economy. While the status of a bellwether stock can change over time, the largest and most-established companies are typically considered a bellwether stock.
Examples of Bellwether stocks are:
FedEx (FDX): Ships goods for consumers and businesses across the globe
Caterpillar (CAT): World's largest heavy-duty machinery maker has been viewed as a bellwether given its large exposure to construction, manufacturing and agricultural industries, particularly in China
3M (MMM): Gauge for the health of the manufacturing sector
Apple (AAPL): Among the world's largest companies. Important for key suppliers, in particular, chipmakers.
2) Earnings recession
An earnings recession is characterized as two consecutive quarters of year-on-year declines in company profits. However, while earnings are an important factor in stock market returns over the long term, an earnings recession does not necessarily coincide with an economic recession.
The chart below shows that in the past six earnings recessions witnessed in the US, only two had coincided with an economic recession. The blue circles show where there was an earnings recession without an economic recession, while the red circles represent where both an earnings and economic recession occurred.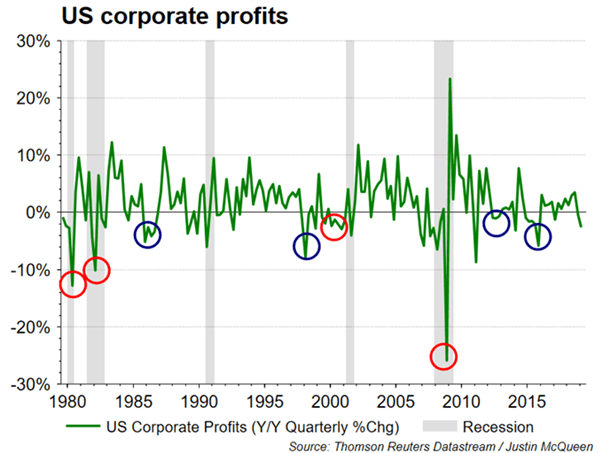 3) Earnings and stock index weighting
Traders should understand that when trading earnings, certain stocks will have a greater impact on the wider index according to their index weighting. For example, when trading the Dow Jones, Boeing releasing its earnings will be highly influential on the index, while Visa likely won't be as influential, due to the former's 9.49% weighting compared to the latter's 4.41%, as shown in the table below. This highlights the importance of paying close attention to bellwether stocks and how they may impact a broader equity index.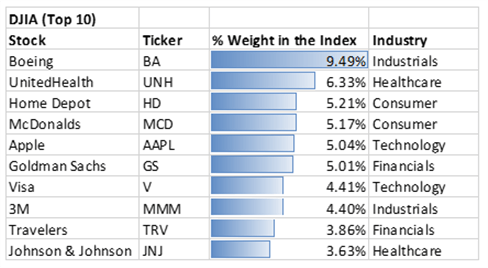 Trading during earnings season: Top tips
We have an in-depth guide on how to trade earnings season, but the important things to remember are:
1) Know the 'expected' results
Being cognizant of what is 'expected' with regards to the revenue/sales and earnings per share (EPS) figures are important because a company's share price reaction can often be determined by the amount by which they beat/miss an aggregate of analysts' expectations.
2) Stay alert to surprise announcements
Any surprise announcements that coincide with an earnings report can also impact the share price of a company. These may include stock buybacks/share repurchase programs as well as company guidance.
3) Be aware of spillover effects between stocks
An example of spillover impact could be if an investor has a chipmaker stock within their portfolio (EG Dialog Semiconductor), earnings from Apple could have a sizeable impact on the stock. Consequently, it is important to assess related stocks, given that they may reveal the outlook for a sector, thus sparking a possible sector rotation.
4) Consider volatility over the bearing of an expected move
Working out the 'expected move' on a directional basis for a stock in reaction to the binary earnings event can be a fraught endeavor. Alternatively, a view taken with volatility in mind instead can prepare investors for significant movement without positioning on the wrong side of the eventual outcome.
Recommended by Ben Lobel
Download our equities forecast for pro stocks insight
Earnings Season: Key Takeaways for Investors and Stock Traders
In summary, earnings season can be an influential driver in a trader's experience. Make sure you keep up to date on the when the key earnings are released for individual companies in order to proactively plan. Be aware of how bellwether stocks, potential earnings recessions and stock index weightings can influence price movements. Keep a handle on what results are expected for each stock, be mindful of greater potential volatility for either analytical or strategic purposes and understand how one stock's performance can impact another's (or an index as a whole).
Following these key tips can help the trader to attempt to weather earnings season and navigate the period more consistently.
Earnings Season FAQs
What does earnings season tell us about the global economy?
Earnings season's impact on the global economy is dependent on a range of factors, from the performance of given sectors to a variety of fundamental factors. While bellwether companies meeting or exceeding expectations can reflect a strong corporate environment, the stock market interacts with the economy in many different ways – so there isn't always a predictable relationship between the two.
How is earnings season impacted by financial downturns?
Financial downturns may impact earnings season in a significant way – dampened demand for products and services caused by a downturn or more prolonged recession can naturally mean earnings failing to hit expectations in multiple sectors. However, perceived defensive stocks such as those in consumer staples or healthcare may weather downturns better or perhaps even become more attractive in such a backdrop.
Is earnings season the same dates in the US and UK?
When it comes to the US/UK earning season dates, UK and European companies tend to get the bulk of their earnings about two to three weeks after the US.
More on equities
Want to build your equities knowledge further? Make sure to check out our stock market articles, with useful, straightforward insight on analyzing the most common capital market assets. Here are a few articles to get you started.