GameStop (GME) stock sheds 2% despite overall market optimism
GameStop stock falls again on Wednesday as market turns risk-off ahead of Jackson Hole.
GME suffering from the backlash against Ryan Cohen for exiting his BBBY stake.
GME stock also suffering as retail momentum begins to dry up.
UPDATE: GameStop stock is off 2% at $31.86 one hour into Thursday's session. The videogame retailer has traded between $31.72 and $32.89 thus far on the day. This is a rather bad sign as all three major indices are ahead, and the risky-heavy Nasdaq is up 1.3%. At least it is well ahead of the average Wall Street price target of $17.50. For the September 2 expiry at a strike of $29.50, 708 GME put contracts have traded this morning, with the last price coming in at $0.70 a share. The price is down 30% from its close on Wednesday.
GameStop (GME) stock fell on Wednesday as the general flatlining of equities ahead of Jackson Hole meant investors and traders were reluctant to take many risks. The market is poised from more views from Fed chair Powell on the rate hiking cycle. Currently, futures and money markets are more or less evenly split between a 50 and 75 basis point hike in September. But positions are being squared ahead of the meeting and with the summer holidays, liquidity is also poor. 
GameStop stock news
Gamestop spiked during August as a supposed Fed pivot to lower interest rates drove risk assets higher. This was added to when meme stocks joined and exceeded the initial move with some notable gains across the meme sector.
GameStop stock moved up nearly 50% in the early stages of this move before retracing. Once BBBY stock began its parabolic move though and Ryan Cohen bought a decent chunk of options, GME stock once again moved back up to near $50. Since then we have had some negative news with video game sales numbers disappointing. Data last week showed video game sales falling nearly 10% YoY.
The main factor in the recent GME reversal is likely to have been Ryan Cohen exiting his RC Ventures stake in BBBY. This led to a catastrophic fall in BBBY and a lack of confidence from some retail traders in him and his plans for GameStop. 
GameStop stock forecast
Macro remains in charge of the narrative right now, and so all eyes fall on Jackson Hole at the moment. It boils down to a dovish or hawkish outcome, so watch the bond market carefully. Risk assets will surge if the Fed maintains that it is now data dependent.
Technically, GME stock has broken the first support at the trend line and now has more or less targeted the most recent low at $32.18. Breaking this will likely see a move to $20 as it signals any bulls are in hiding. GME share price is also suffering from the mid-August double top at $46, which is a bearish pattern with a $32 target that for now has more or less been achieved. This $32 level assumes even more importance and is our short-term pivot point. We are bearish below with a $20 target and bullish above with a $50 target.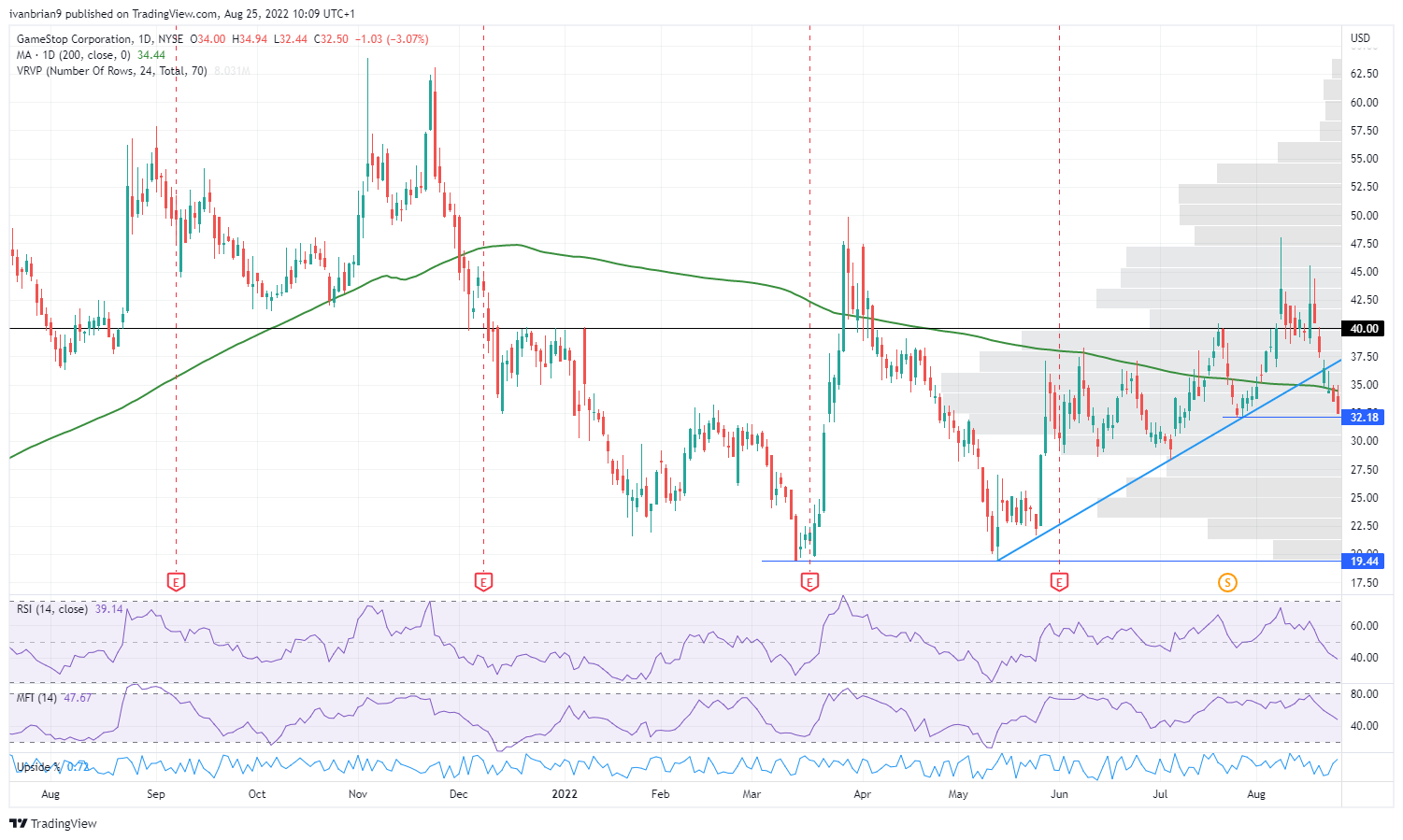 GameStop daily chart